Barnett's power price fantasy contradicted by privatisation reality over east
Monday 16 Jan 2017
With temperatures soaring across WA, many of us are reaching for our air con remotes and fans to try and keep cool.
Unfortunately for those in other states with private electricity providers, this time of year means making a choice between suffering in the heat and suffering an surprisingly hefty hit to the hip pocket.
South Australians received an unwanted present on Christmas Day; as the mercury passed 40C in the afternoon, electricity prices spiked to $550 per megawatt hour.
Meanwhile, the people of Victoria started the new year on a sour note with unexpectedly severe electricity price hikes. EnergyAustralia and AGL increased electricity tariffs in Victoria by $135 and $132 on average for the year respectively. Previous state government modelling had projected bills would only rise as little as $27.
Pressure is escalating on state and federal governments to deal with the problem of escalating energy costs, amidst claims that rising power bills are negatively affecting business by undermining competitiveness. The Australian Energy Council warns that the impact will be greatest in Victoria and South Australia, which face the biggest wholesale price increases.
As we have written about previously, Victoria and South Australia are the two Australian states where the electricity system has been completely privatised.
Residents are hurting. Businesses are hurting. If privatisation is supposed to increase efficiencies and reduce waste, why is it that the two states with privatised poles and wires pay the most for their power in the country?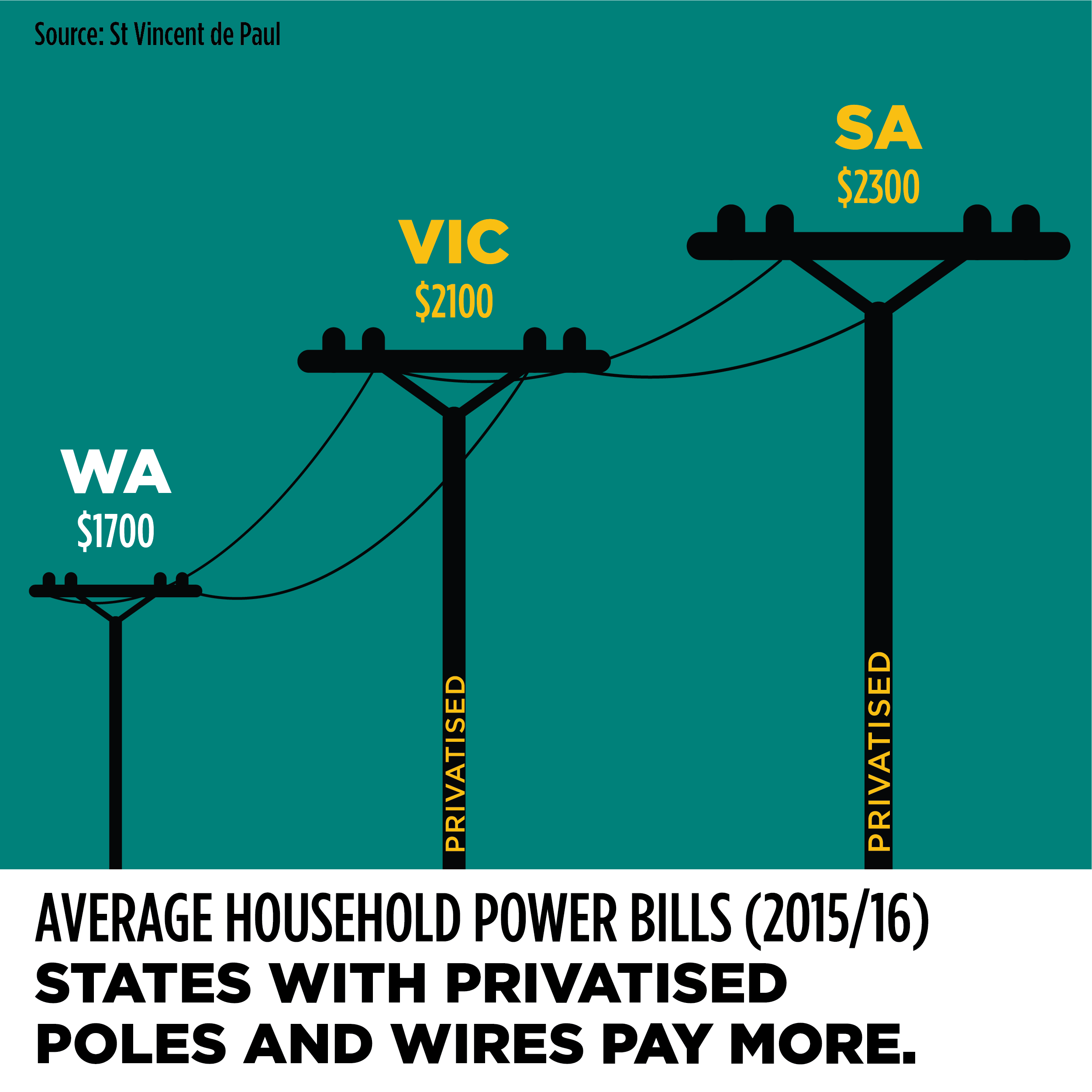 It's clear that when electricity providers are privatised, power prices go up. It's so clear that even Rod Sims, the Chairman of the Australian Competition and Consumer Commission, has recognised the impact privatisation had on electricity prices:
"When you meet people in the street and they say I don't want privatisation because it boosts prices, and you dismiss them, no, no, they're right. Recent examples suggest they're right."
Rod Sims, Tuesday 26th July 2016
With all the evidence on the table and the consensus of the ACCC, it would take an excessively arrogant government to try and push through privatisation while trying to convince the public that prices wouldn't rise.
Unfortunately for WA, in Colin Barnett and the Liberals, arrogant is what we have.
It's been hard to avoid their condescending, tax-payer funded, PR campaign running relentlessly on television over the last six weeks, purportedly attempting to "sort the fact from the fiction" while failing to explain how they plan to keep prices at current levels.
There's certainly no mention of last month's report by the Australian Energy Market Commission, which mentioned that "power prices in WA, which are set by the State Government, would need to rise by 11 per cent to reflect the total estimated cost of supply."
How exactly will a profit-seeking company manage to maintain current prices without operating at a loss? The short answer is they wouldn't, and if they did, you wouldn't expect them to be around for long.
The simple fact is that Colin Barnett and the Liberals are pushing a fantasy that you can have privatisation without having prices going up.
He got away with it in the nineties when he privatised Alinta Gas while promising that it would be owned by mums and dads and that prices wouldn't go up. But once Alinta was in private hands, prices went up and have continued to increase ever since.
He thinks he can get away with it again with Western Power. At the state election in March, the people of Western Australia will have the chance to bring him back to reality.